Sponsor News: BWTF welcomes new sponsor Captured Prey! Check out details on their Black Friday sale and contest!
Posted on 23. Nov, 2017 by Wonko the Sane
in News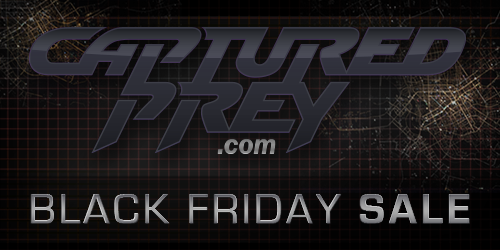 Greetings, fellow BWTF fans! BWTF.com and it's founder, Ben, have been long-time pillars of the Transformers fandom. We're thrilled to partner with them as a sponsor, and hope that you will enjoy shopping with us! We're going to kick things off with a chance for you to win some free figures for your collection!
-One (1) winner will receive a full set of four Power of the Primes Wave 1 deluxe figures!
-One (1) winner will receive a HasCon exclusive Titans Return Arcee with Leinad and Ultra Magnus Titan Masters!
-One (1) winner will receive a Walgreens exclusive Wingspan & Cloudraker 2-Pack!
-Two (2) winners will receive a Power of the Primes deluxe Jazz figure!
Shipping worldwide is included! To enter, simply do one of the following:
1) Place any order with our website and enter "BWTF.com sent me!" in your order comments
OR
2) Send an e-mail to service@capturedprey.com with the subject line "BWTF.com sent me!"
Winners will be selected on December 14th so that we can hopefully get your prizes to you before Christmas (at least if you live in the US).
And now...on to Black Friday news!
It's that time of year again, fellow fans, and we're pleased to be bringing you another round of specials for four days! Join us for the following specials each day! Deals will go live each morning at midnight for that day's specials, and additional items will be on sale during all four days!
BLACK FRIDAY - November 24th
RM-01 Cupola - 105.00
RM-04 Ironwill - 120.00
RM-06 Contactshot - 120.00
RM-07 Visualizers - 100.00
CITYBOT SATURDAY - November 25th
Titans Return Fortress Maximus - $110
Legends LG-43 Trypticon - $140.00
Maketoys Utopia - $325.00
Maketoys Dystopia - $350.00
SEIBERTRON SUNDAY - November 26th
Maketoys My First Blaster - $10.00
Maketoys Quantron - $210.00
Fans Toys FT-08G Grinder G2 - $185.00
CYBER MONDAY - November 27th
FansProject Function XV M.A.D.L.A.W. - $50.00
Fans Project Function X6 Knight
Fans Project WB-007 Dai-Z
Fans Project WB-008 Trianix Alpha